Sexy Lingerie
Description - From sexy sleepwear to sexy stocking stuffers, this holiday will be one to remember.
Why we love it - These gifts both tease and please!
Where to get it - Flirt Catalog
Dirty Darts
Description - This stimulating game of darts takes true skill to play; but it isn't about how well the darts are thrown. The trick lies in performing the various romantic actions it calls for (it all depends on where your dart lands!).
Why we love it - We're suckers for sexy takes on classic games! You'll have a blast with this one.
Where to get it - RedEnvelope
101 Nights of Grrreat Sex: The Game of Sensual Foreplay
Description - Enjoy the romance, the fun and the red-hot sexual play that have turned Laura Corn's books into worldwide million-sellers! You're in for a night of anticipation, fun, excitement, and mystery.
Why we love it - We loved the book and the game adds a whole new dimension.
Where to get it - Drugstore.com
Chocolate Body Pain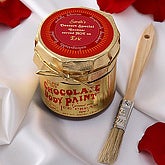 Description - After your romantic dinner, save room for dessert on you with delicious and sexy chocolate body paint. Made with French chocolate -- an aphrodisiac! -- it comes in a customizable container with easy-to-follow directions: Heat to 98.6 degrees, "apply liberally," and let your appetite run free! With YOU as the dessert special, you're sure to heat up the bedroom on Valentine's night.


Why we love it - It's sexy and erotic -- Need we say more? This is one of our absolute faves!


Where to get it - PersonalizationMall
Get Lucky Dice
Description - Getting lucky just got easier. Our set of pewter dice is inscribed with action words, body parts and parts of speech. Take turns rolling the dice and acting out the various commands such as "brush lips against back." Includes one wild-card body part best left to the imagination.
Why we love it - You'll get lucky all night long with these lucky dice
Where to get it - RedEnvelope - $35
Intimate Board Games
Description - Check out this wide variety of intimate board games for a fun night in the bedroom. Not sure you want an actual board game? This downloadable ebook 100 Sex Games for Couples is filled to the brim with sexy bedroom games that you can start enjoying tonight!
Why we love it - Helps you add an extra spark!
Where to get it - Various stores - $varies
OhMiBod iPod Vibrator
Description - The ultimate companion for your iPod® or music player. Easily converts to standard multi-speed vibrator. Vibrates to the rhythm of your favorite music. Use the volume wheel to power up the vibes. The range and variety of vibrations are endless. So easy to use. . . simply plug in and play. Discover the power of your playlist.
Why we love it - Super sexy fun for the music lover.
Where to get it - Drugstore.com - $70
KY Yours and Mine
Description - his excites, hers delights. together they ignite. one+one=everything. It takes two. To make chemistry. To make magic. To make love. That's why it takes two lubricants to let your lovemaking add up to a totally new experience. You do the math: An invigorating sensation for him. A thrilling sensation for her. Put the two together and suddenly, everything's just right. Better than just right. Completely new and unexpected. More exciting. More satisfying. More everything.
Why we love it - Enhances the sexual experience for both of you.
Where to get it - Drugstore.com - $17
Gifts For Him | Gifts For Her
Couple's Gifts | Sexy Gifts
Unique Gifts | Massage and Bath Gifts
Romantic Jewelry | Romantic Flowers
Romantic Sweets